Remembering Herb Henry, the "Johnny Appleseed" of Telespar signposts
Anyone who has ever driven past a road sign has experienced the masterful salesmanship of Herb Henry. Herb spent his entire 40-year career with the Unistrut Corporation, which manufactures Telespar® square tubing. Thanks largely to Herb, Telespar's distinctive signposts dot virtually every road in North America.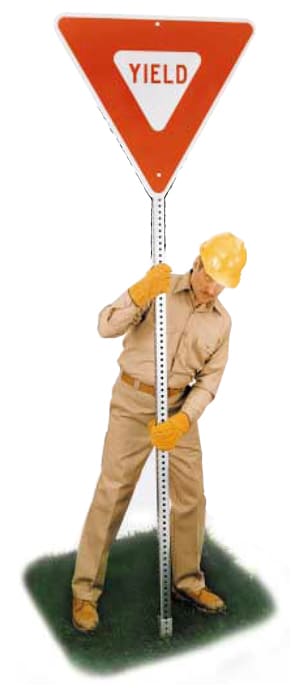 What makes the Telespar system special is its breakaway quality. If a vehicle collides with it, the post gives way. Since its introduction in 1964, the Telespar signpost has saved countless lives. It's still considered the industry standard.
Invented by Charles Atwood, Telespar has a variety of industrial uses. Its adaptation to traffic control started when the Michigan Department of Transportation asked Unistrut for a better way to support small signposts. It was Herb Henry who collaborated with the DOT to develop the original breakaway system.
Herb traveled from coast to coast, convincing Unistrut distributors that Telespar posts could greatly benefit their municipal customers. Donning a helmet, he'd drive over the signposts to prove their exceptional safety properties. That's how Herb became a friend of Eberl Iron Works – we were among the first to realize the Telespar system's potential, and Herb was our longtime Unistrut representative. His dedication propelled us into a new market, and today our Traffic Products Division is a key component of our business.
Among our fondest memories of Herb are the many, many Michigan football games we attended as his guests. After Unistrut corporate meetings, Herb reveled in his role as "Mr. Host," providing us with every amenity from plentiful refreshments to Telespar rain ponchos and Michigan sweatshirts. We enjoyed our time with him, with his wife, Marilyn, and with his assistant, Glen Noble, in whose capable hands Herb left us when he retired.
Herb's extraordinary ability contributed to the development of many Telespar products; his engaging manner and knowledgeable salesmanship contributed to their success. He was a pioneer in the industry, an asset to his company and a friend to all of us.
When Eberl Iron Works celebrated its 90th anniversary in 2013, Herb Henry was an honored guest. While we were saddened by his death in February, we will always treasure our long and rewarding relationship.