FOR Release on June 17, 2022
---
For more information, contact:
---
Eberl Iron Works to Celebrate Centennial:
Anniversary Logo Unveiled Today
BUFFALO, NY – Business was booming in Buffalo, NY in 1923. The Statler Hotel opened its doors. City bus service began its first route on Bailey Avenue. Architect E. B. Green's Genesee Building was an exciting new addition to the downtown skyline. Chef's Restaurant served its first meal at the corner of Seneca and Chicago Streets. And brothers George and Frank Eberl opened a small welding shop on Sycamore Street, next door to the family homestead, and named it Eberl Iron Works.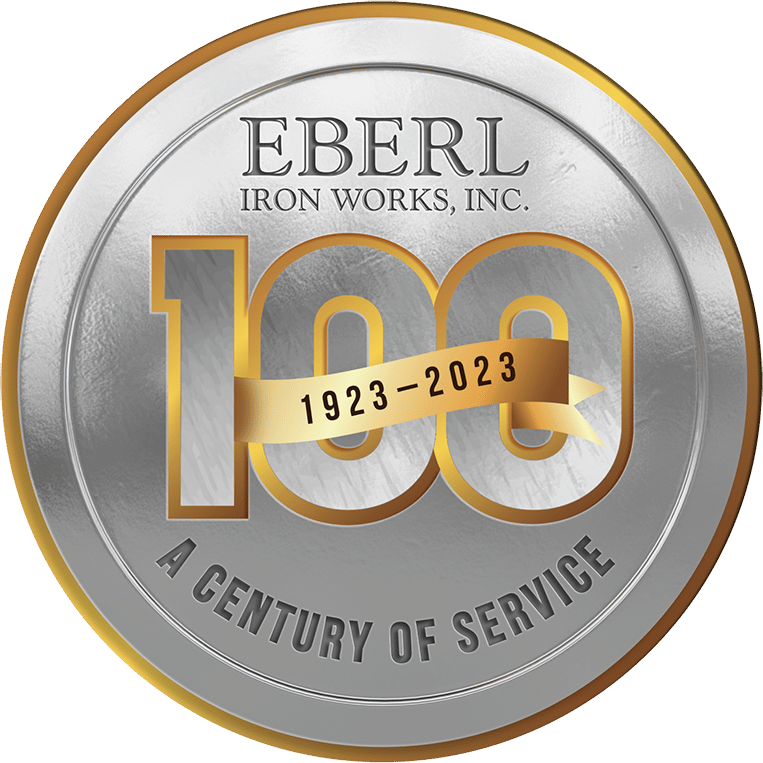 Next year will mark the centennial of this family-owned business and in preparation, the company unveiled its 100th anniversary logo today at the corporate headquarters, 128 Sycamore Street in Buffalo.
"This is a proud occasion for our company, our team, and the entire Eberl family," said third generation Chief Executive Officer John Eberl. "We're poised to meet a significant milestone. Over the past 100 years, our products may have evolved and expanded, but our commitment to quality and service and family remain the same."

John Eberl ~ Chief Executive Officer
The 100th anniversary logo was designed by local artist Sandra Juarez-Ensminger,  It symbolically blends shades of silver and grey with ceremonial gold with rich black and deep blue highlights. "It's our anniversary theme that's most important," says Nora Eberl, Chief Financial Officer and third generation co-owner, with her cousin John. "'A Century of Service' honors our past and it also sets the stage for our future."
Established in 1923 as a small welding shop, Eberl Iron Works, Inc. maintains headquarters at its original Buffalo location and serves markets across North America.
###