Eberl Iron Works, Inc., honored with Buffalo Niagara Business Ethics Award
BUFFALO, NY – Eberl Iron Works, Inc., has received the 2015 Buffalo Niagara Business Ethics Award in the small business category, for companies with 50 or fewer employees.
Co-owners John C. Eberl, chief executive officer, and Nora E. Eberl, chief financial officer, accepted the award during a May 14 luncheon which also honored James Desiderio Wholesale Produce and Calspan Corporation in the mid-size and large company categories, respectively. The three winners were selected from a field of 80 applicants.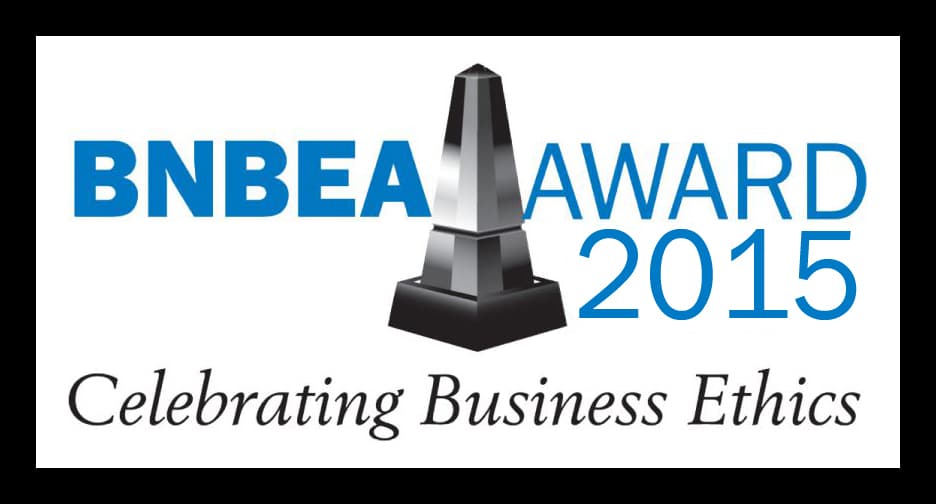 "Business ethics are literally in our DNA," said John Eberl. "We absorbed values just by observing what our elders did every day." He and his cousin, Nora Eberl, are third-generation leaders of the family-owned company.

~ John Eberl
"Preparing our entry gave us many worthwhile insights," added Nora Eberl. "We will always be grateful to the BNBEA program for leading us to the wonderful discovery that we really are doing things right."

~ Nora Eberl
The annual BNBEA eventraises community awareness of ethical behavior and pays tribute to companies that consistently demonstrate ethical conduct in everything they do.
"This year's award recipients choose the high road and consistently demonstrate exemplary ethical conduct in their businesses and professions," said Fred Holender, who led this year's steering committee. "They make a difference in our community, not just for what they do, but for how they choose to do business."

~ Fred Holender
The 2015 Buffalo Niagara Business Ethics Awards were presented by the Buffalo Niagara Business Ethics Association and Lawley Insurance; Brock, Schechter & Polakoff LLP; Canisius College Richard J. Wehle School of Business; Key Bank; West Herr Automotive Group, and media partners WBEN Radio, WGRZ Channel 2, Business First and WBFO Radio.
Established in 1923, Eberl Iron Works serves markets across the Northeast. Its manufacturing and distribution businesses include custom metal fabrication, Unistrut metal framing products, traffic safety products, rooftop support systems and systems installation.