Rooftop Support Systems (RTS) – Strategic Accounts Salesperson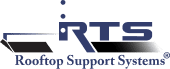 Engineered and Pre-built supports for Pipe, HVAC Duct Work, Conduit and Walkway Systems on Rooftops.
Job Description
I. Summary
The Eberl Iron Works, Inc. RTS Strategic Accounts Salesperson will be responsible for generating sales of Eberl Iron Works, Inc. RTS products and services and new Strategic Partner accounts in the assigned territory. The Sales Representative will achieve sales goals ($) by building and maintaining solid, lasting relationships, and presenting solutions to facilitate the placement of orders for Eberl Iron Works products.
This Position Reports to: National Sales Manager
II. Territory
The territory to be covered will be in the United States, not including the area covered by the RTS Product Specialist (NY, PA, E. OH, S. NJ). Activity in areas beyond the assigned territory will be at the discretion of the Sales Manager.
III. Product Responsibilities
The RTS Strategic Accounts Supervisor will have a primary product responsibility of selling Rooftop Support Systems products and services in his/her entire territory through the Strategic Partners. Changes to these responsibilities will be at the discretion of the Sales Manager.
IV. Account Responsibilities
The RTS Strategic Accounts Supervisor's primary responsibilities include territory development, calling on Architectural/Engineering firms and large contractors, product presentation and demonstrations for Strategic Partners, establishing new Strategic Partners, product training, evaluating Strategic Partner performance, finding new opportunities outside Strategic Partner territories, and following up on quotes. The Sales Representative will be responsible for selling and developing leads approximately 30% of the time and servicing existing accounts 70% of the time. Changes to these responsibilities will be at the discretion of the Sales Manager.
V. Travel
Travel days into/out of your call areas should be Mondays and Fridays unless it is within a reasonable trip to an area close to your home base. Prime selling days are Tuesday, Wednesday, and Thursday. Travel 50% of the time.
VI. Communication
Salesperson will be required to communicate his/her weekly & quarterly plan activity to the Sales Manager. Weekly phone conference meetings will take place on Mondays to discuss where they have been, where they are going, competition, market trends, as well large project activity and status.
VII. Reporting
Written reports will be required of the RTS Strategic Accounts Supervisor to communicate status of the territory as well as the need for company resources through the CRM program and directly to the Sales Manager on time sensitive projects/issues. Weekly and quarterly reports are mandatory and must be timely, accurate and detailed. The report should lay our the status of sales initiatives, quote status, changes to business conditions, along with requests for resources and samples.
Rooftop Support Systems (RTS)
The Rooftop Support Systems division of Eberl Iron Works, Inc. designs and manufactures a full line of non-penetrating and direct-mounted support solutions for rooftop pipe, duct, and equipment as well as maintenance platforms, walkways, and railings for contractors in the MEP and fabrication trades. It is seeking a highly motivated individual to increase sales through our national Strategic Partner (distributor) network. The main goal of this individual is to help grow and expand business while maintaining a high level of customer satisfaction.
Qualifications
Four-year degree with 5-7 years of experience or two-year degree with 7-10 years relevant experience with a proven track record of success.
Experience working with and overseeing a distributor network.
Must be able to effectively communicate with team members and customers.
Experience selling to MEP contractors and familiarity with MEP products market.
Understanding of project drawings and specifications.
Ability to create/deliver presentations to small/large groups and Senior Management.
Proficiency in MS Office (Excel, Outlook, Word, etc.).
Strong written and verbal communication, time management, leadership, organization and problem-solving skills.
Responsibilities
Reports to National Sales Manager.
Customer interaction primarily in person, but also by phone/Zoom calls, and email.
Become familiar with competitive products.
Develop/Deliver presentations - both custom and generic, depending on the customer and product to be presented.
Call on contractors and architectural/engineering firms.
Promote RTS products and solutions to drive sales through Strategic Partners.
Monitor Strategic Partner quotes and orders to ensure deadlines are met.
Evaluate current Strategic Partner sales and encourage their growth.
Seek out and establish new Strategic Partners in areas not yet covered.
Discovering/tracking large projects/opportunities.
Daily CRM updates and weekly/quarterly reports.
Overnight travel throughout the US via plane or car (50%).
Other duties as assigned by Manager.
To apply, please send a resume via email to
For more information about Eberl Iron Works, Inc., please visit
Eberl Iron Works, Inc. is an Equal Opportunity Employer
apply for job